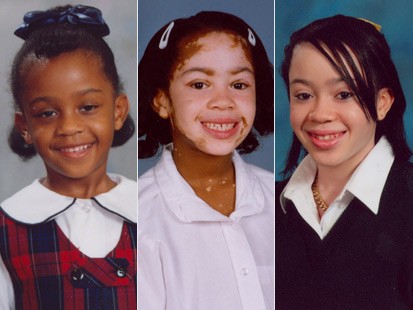 The other day I happened to glance at the TV while someone was watching a program about medical conditions. One of the conditions profiled was vitiligo, a skin ailment that causes white patches on the skin. As it spreads, vitiligo destroys the cells in the body which give the skin its color. In more advanced stages, this non-fatal but (so far) incurable disease can leave a person with skin that has splotches of white along with one's original skin tone.
In rare cases, vitiligo can be so complete that none of a person's original skin color is visible. An example of this is shown in the image above. The young lady was born with dark skin tone, and gradually vitiligo claimed all her dark skin color. You can read more about her here. One of the people interviewed by the program was African-American, but this woman has completely white skin. She said that it has been interesting with white skin, because although she knows she is African-American, people treat her differently. She has experienced what some call 'white privilege,' where merchants will pay more attention to her because of her skin color. She also feels like African-American strangers see her as an outsider, as if they are saying "what are you doing here?"
Here is more information about vitiligo:
http://www.nlm.nih.gov/medlineplus/vitiligo.html
I wonder how much our skin color and physical appearance affects how we are treated, and how we treat others.
Is our identity tied up in this?